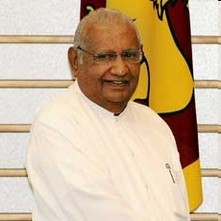 Prime Minister Ratnasiri Wickramanayaka in a message to mark the birthday celebration of Holy Prophet Muhammed states: "It is with great pleasure that I issue this message to mark the birthday celebrations of a great teacher who created peace and co-existence among humanity.
"The history of Islam points out that he was born in the sacred city of Mecca in Saudi Arabia long time ago. Although he suffered immense difficulties in his childhood he became an exemplary character which only said the truth.It was in honour of his sincerity that he was also known as Al Amin. This helped to cultivate faith and truth in the Muslims to generate a feeling of strength among them.
Guidance of such virtuous characters is in dire need for our country today because it is poised on a new path after ending terrorism which engulfed the country in darkness for several decades.
"We can pay attention to human strength by celebrating the birthday of Prophet Muhammed who was a great philosopher, religious leader and preacher. "While joining in these celebrations I wish to reiterate the importance of protecting the essence of humanism."Virtuous men who can remain in the hearts of people for centuries are very rare. "Prophet Mohamed is such a heroic character."
Posted on Saturday, February 27, 2010 @ 19:39:35 JST by
admin